Members generally start with a basic kit and build on their impression. As living historians, the need for accuracy is paramount and may result in a considerable amount of kit. Click on each picture for a larger picture so that you can clearly see all the accoutrements. Some members have progressed in rank beyond the normal entry level (Schütze, Matrose, Flieger, Private, etc) and are therefore wearing appropriate rank devices. Medals. proficiency badges and other embellishments are awarded by the Club in accordance with the regulations.
AXIS – GERMAN FORCES
Army (Heer). A good layout of what a German soldier in the Wehrmacht might have as issue items. There are duplicates in this muster and a few souvenired items.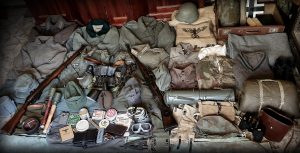 Navy (Kriegsmarine). The standard dress (non-ceremonial) of an enlisted man in the DKM. Note the upturn or cuff on the trousers. When ashore for combat, the Matrose wears exactly the same equipment as the Heer and trousers may be tucked into the long boots. Long white trousers may be are worn in summer. The helmet is the same as Heer although the left decal is super imposed on an embossment on the helmet

Navy Coastal Artillery (Küstenartillerie). The Coastal Artillery was a distinct arm of the German Navy and manned all the coastal installations. The uniform was very similar to the Heer but retained Naval buttons and gold rank and trade badges.
Luftwaffe Paratroopers (Fallschirmjäger). Coming
Luftwaffe Flakhelferin. Flakhelferin provided essential support through operating early detection devices (binoculars and hearing) to alert of incoming aircraft. They also operated the Flak guns and search lights.

ALLIES – AMERICAN FORCES
US – 101st Airborne, 506th Parachute Infantry Regiment, Dog Company – Tec 5

US – 101st Airborne. Here is some of the US kit items laid out. It includes the most of the items an enlisted trooper would have.